"
I can't believe

my results,and how it haschanged my life!"
Isotonix OPC-3®
$34.95 - $74.95
This product qualifies for free or reduced cost shipping. Learn More
Primary Benefits* of Isotonix OPC-3®
---
The most powerful antioxidant supplement on the market today! Provides complete antioxidant protection.
Combats free radicals
Helps maintain healthy cholesterol levels

Helps maintain healthy circulation by strengthening capillaries, arteries and veins
Promotes/Supports healthy blood vessel dilation
Helps promote/support cardiovascular health
Helps maintain joint flexibility
Helps reduce mild menstrual cramping and abdominal pain
Helps support visual health/visual acuity
Potent free radical scavenger
Promotes/Supports healthy nitric oxide levels
Supports a healthy complexion
Supports healthy blood glucose levels
Supports healthy platelet activity
Supports healthy sperm quality
Promotes sinus comfort
Product Classifications
---
Gluten-Free - The finished product contains no detectable gluten (<10ppm gluten)
No Detectable GMOs - The finished product contains no detectable genetically-modified organisms
Vegan - The product is made without ingredients produced by or derived from animals
Isotonic-Capable Drinkable Supplements - Easy-to-swallow supplements in liquid form are immediately available to the body for absorption
Quality Standards - GMP Operations and Standardized Ingredients
Checked For: Heavy Metals, Microbiological Contaminants, Allergens, Residual Solvents, Potency, Purity and Identity
What Makes Isotonix OPC-3 Unique?
---
Isotonix OPC-3® is an isotonic-capable food supplement that is made from a combination of bilberry, grape seed, red wine and pine bark extracts, and citrus extract bioflavonoids, all found to be powerful antioxidants. Oligomeric proanthocyanidins (OPCs) are bioflavonoids (complex organic plant compounds) found in fruits, vegetables and certain tree barks that provide exceptional nutritional benefits to the human body. Studies have shown OPCs to be up to 20 times more powerful than vitamin C and 50 times more powerful than vitamin E in neutralizing free radicals. Isotonix OPC-3 contains the only isotonic form of Pycnogenol® in the world. Pycnogenol is a natural plant extract from the bark of the French maritime pine tree and the most clinically researched and potent bioflavonoid.*
Isotonix Delivery System
---
Isotonix - the World's Most Advanced Nutraceuticals
Isotonic, which means "same pressure," bears the same chemical resemblance of the body's blood, plasma and tears. All fluids in the body have a certain concentration, referred to as osmotic pressure. The body's common osmotic pressure, which is isotonic, allows a consistent maintenance of body tissues. In order for a substance to be absorbed and used in the body's metabolism, it must be transported in an isotonic state.

Isotonix dietary supplements are delivered in an isotonic solution. This means that the body has less work to do in obtaining maximum absorption. The isotonic state of the suspension allows nutrients to pass directly into the small intestine and be rapidly absorbed into the bloodstream.With Isotonix products, little nutritive value is lost, making the absorption of nutrients highly efficient while delivering maximum results.
Key Ingredients
---
Grape Seed Extract (25 mg)
Grape seed extract is typically extracted from the seeds of red grapes (instead of white), which have a high content of compounds known as oligomeric proanthocyanidins (OPCs). Grape seed extract is extremely rich in polyphenols, compounds with high antioxidant activity. Grape seed extract has been found to maintain healthy cholesterol levels.*
Red Wine Extract (25 mg)
Red wine extract is a powerful antioxidant. This extract is found in grape vines, roots, seeds and stalks, with the highest concentration in the skins. The antioxidant properties of red wine extract contribute to maintaining healthy circulation by strengthening capillaries, arteries and veins, and promoting overall cardiovascular health.*
In the late 1990s, scientists took note of a phenomenon among the French. There were very low rates of cardiovascular problems in the provinces where residents consistently ate high fat foods and drank red wine. Scientists concluded that the protective properties of red wine have helped the French maintain cardiovascular health for years and subsequent scientific studies have further shown that the OPCs found in red wine are particularly beneficial for protecting the heart and blood vessels.*
Pine Bark Extract (Pycnogenol®) (25 mg)
Pycnogenol is a natural plant extract from the bark of the maritime pine tree, which grows exclusively along the coast of southwest France in Les Landes de Gascogne. This unspoiled and natural forest environment is the unique source of pine bark. Pycnogenol is one of the most researched ingredients in the natural product marketplace. Published findings have demonstrated Pycnogenol's wide array of beneficial effects on the body. Pine bark extract is an all natural combination of procyanidins, bioflavonoids and organic acids.
The extract has three basic properties — it is a powerful antioxidant, selectively binds to collagen and elastin, and promotes the normal production of endothelial nitric oxide, which promotes the normal dilation of blood vessels.*
As one of the most potent natural scavenger of free radicals, Pycnogenol combats many aggressive free radicals before they cause oxidative stress to vital organs. Its super-antioxidant capabilities help support healthy blood platelet activity, support healthy blood glucose levels, reduce mild menstrual cramping and abdominal pain, maintain joint flexibility, promote cardiovascular health, promote healthy sperm quality, maintain healthy cholesterol levels and support a healthy complexion.*
Bilberry Extract (25 mg)
Bilberry extract is derived from the leaves and berry-like fruit of a common European shrub closely related to the blueberry. Extracts of the ripe berry are known to contain flavonoid pigments known as anthocyanins, which are powerful antioxidants. Scientific studies confirm that bilberry extract supports healthy vision and venous circulation. Bilberry extract helps maintain healthy circulation by strengthening capillaries, arteries and veins.*
Citrus Extract (Bioflavonoids) (25 mg)
Bioflavonoids are antioxidants found in certain plants that act as light filters, which protect delicate DNA chains and other important macromolecules by absorbing ultraviolet radiation. They have been found to promote cardiovascular health and help maintain healthy circulation by strengthening capillaries, arteries and veins.*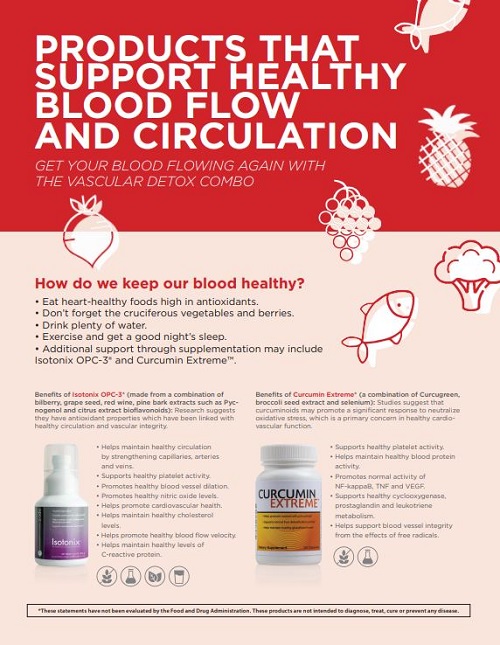 FAQs
---
What is Isotonix OPC-3®?
Isotonix OPC-3 is a dietary supplement that bears some of the most powerful bioflavonoids currently known to research scientists. These bioflavonoids are scientifically termed oligomeric proanthocyanidins, commonly abbreviated OPCs. The purest and best-researched OPCs chosen for OPC-3 are prepared from grape seed, red wine, bilberries, Pycnogenol from pine bark and citrus fruit. This combination of potent OPCs is unique to OPC-3, as is the Isotonix® delivery system, which enables rapid and highly efficient absorption of the OPCs. Isotonix OPC-3 has been shown to provide a variety of health benefits including, but not limited to, combating free radicals, helping maintain healthy cholesterol levels, helping maintain healthy circulation by strengthening capillaries, arteries and veins, helping maintain joint flexibility, helping promote/support cardiovascular health, helping reduce mild menstrual cramping, helping support visual health/visual acuity, scavenging free radicals, promoting/supporting healthy blood vessel dilation, promoting/supporting healthy nitric oxide levels, supporting a healthy complexion, supporting healthy blood glucose levels, supporting healthy platelet activity and supporting healthy sperm quality.*
What is a bioflavonoid?
Bioflavonoids are complex organic plant compounds. Plants and fruits differ in colors based on the specific bioflavonoids they contain. An increasing number of clinical studies have shown how bioflavonoids support health. Bioflavonoids found in OPCs play a key role in cardiovascular health and maintaining vascular integrity. Bioflavonoids have been shown to demonstrate support for healthy circulation and cell vitality. Normal collagen renewal is promoted, which supports firmness of the skin, joint cartilage and connective tissue.
What sets Isotonix OPC-3 apart from other bioflavonoid products?
Isotonix OPC-3 offers scientifically supported OPCs, found to be the most powerful antioxidants for human health. In addition to being powerful antioxidants, these individual OPCs have been shown to provide a myriad of specific health benefits. This science-driven selection of OPCs is unique to OPC-3, as is the Isotonix delivery system, which enables rapid and highly efficient absorption of the OPCs. The potent nutrients, in combination with the highly effective delivery system, makes OPC-3 the most powerful free radical scavenging product available.*
Is Isotonix OPC-3 safe?
Yes. OPCs are among the most valuable constituents of a healthy human diet. OPCs have been researched and used for over 30 years throughout Europe. OPC-3 contains pure OPCs in combination with carefully balanced quantities of potassium and fructose/glucose, which set up the isotonic delivery system. OPC-3 is free of harmful chemicals, preservatives and alcohol. OPC-3 should be taken as directed.
How long does it take to benefit from Isotonix OPC-3?
OPC-3 not only provides the most potent OPCs available, the unique Isotonix delivery system ensures that the small intestine rapidly absorbs the OPCs, which are available in the blood stream with in minutes. This is because the OPCs are delivered in liquid form. The liquid is isotonic, which means it duplicates the environment in our cells and blood stream regarding pH, electrolytes, etc. This enables the OPCs to enter the body easily and with a high level of bioavailability. Because of the rapid absorbability, the body should benefit from Isotonix OPC-3 almost immediately.
What is the advantage of taking Isotonix OPC-3 regularly?
Many effects of OPC-3 start to work after a single serving. Studies with human volunteers have found that the health benefits of OPCs may take a while to occur. This may be the case for health concerns resulting from everyday wear and tear, where time simply has taken its toll. Taking Isotonix OPC-3 daily enables the body to sustain a consistent antioxidant defense.
Why should everyone take Isotonix OPC-3?
Free radical damage and oxidative stress everyone is subject to. Free radicals develop as byproducts of physiological processes that occur within the body. This damage does not cause noticeable harm at first, yet may add up over the years. This process is largely responsible for the aging process. Free radicals have been linked directly to premature aging, poor circulation, poor heart health and poor immune health. OPCs are the most powerful natural free radical neutralizers and you get the best of all OPCs by taking Isotonix OPC-3. Regular use every day is vital for keeping free radicals in check and a long, healthy life. Laboratory studies have shown that OPCs are more powerful antioxidants than vitamin C and vitamin E.
Can you take Isotonix OPC-3 in soda, juice, coffee, etc., rather than water?
It is possible but not recommended. This product should only be taken as directed. In order to keep the product in an isotonic form and to achieve the maximum delivery speed, it needs to be taken on an empty stomach with 2 oz. of water per capful. Mixing the products with anything else besides other Isotonix products and water slows down the delivery time and may affect the percentage of uptake.
I am healthy and athletic; why should I take Isotonix OPC-3?
Everyone is vulnerable to the aging process caused by continuous free radical damage. Athletes tend to be exposed to elevated levels of oxidative stress. Free radicals develop as byproducts during metabolism when calories are processed with oxygen. Athletes inhale 10 to 20 times more oxygen during physical activity over rest periods. The increase in activity creates additional free radicals. In fact, these free radicals are known to limit performance, as free radicals appear to take their toll on muscle tissue. Studies on recreational athletes have shown a 20 percent endurance increase with OPCs, as compared to a control group receiving a placebo. Another study has shown that athletes using OPCs suffered significantly less muscle cramping during and after performing. Isotonix OPC-3 helps to maintain healthy blood flow and this supports oxygen supply to muscles.*
Does OPC-3 have a rejuvenating effect?
The damage caused by free radicals adds up with time. A cause for more worry is the fact that your body's own mechanisms to keep free radicals in check decline with increasing age — when you need them the most. Suddenly, we find ourselves confronted with some typical age-related problems. Some cells of our body are more vulnerable to free radicals than others. OPC-3 has the ability to go in and do a knockout job, cleaning and scavenging the free radicals that feast on cellular energy, and take it away from vital processes.*
What are the cardiovascular health benefits of OPCs?
Scientist Albert Szent-Gyorgyi, who received the Nobel Prize for the discovery of vitamin C, discovered OPCs. Szent-Györgyi found that OPCs work in a similar fashion. They strengthen the walls of arteries, veins and capillaries.*
Does OPC-3 have benefits specifically for women?
Some OPCs were shown in clinical trials to help women who suffer from mild pain and cramping during the menstrual period. When women were supplemented with OPCs, starting at least a week before their menstrual period, pain values were found to be significantly lowered.
What exactly is Pycnogenol?
Pycnogenol is the registered trademark of Horphag Research (UK) Ltd. for a standardized extract of bark of the French maritime pine tree. Pycnogenol is particularly renowned for its extensive clinical research with more than 120 studies published in peer-reviewed medical journals. The flavonoids in Pycnogenol not only act as powerful antioxidants, they also appear to promote the normal generation of nitric oxide (NO). NO plays a key role in regulating cardiovascular health. Nitric oxide promotes the normal relaxation of arteries, supports normal diameter of blood vessels and supports helps maintain healthy blood pressure and circulation. NO promotes normal platelet activity allowing the blood to maintain a normal, fluid viscosity. Pycnogenol has been awarded various patents for its ability to support healthy platelet activity.*
How do I take OPC-3?
Follow the directions on the label, for long-term health maintenance. If you have a chronic concern for which you seek support you may speak to your health care provider about increasing the amount of OPC 3 you take daily.
What is the best way to store this product?
Keep Isotonix stored in a dry, cool place. If Isotonix are stored in the kitchen, keep them away from the stove, sink, heat-generating appliances or window ledges. If you live in a very humid area, you may store Isotonix products in the refrigerator – but not in the fruit and vegetables area.
Science
---
Devaraj, S., et al. Supplementation with a pine bark extract rich in polyphenols increases plasma antioxidant capacity and alters the plasma lipoprotein profile. Lipids 37:931-4, 2002.
Fitzpatrick, D., et al. Endothelium-dependent vascular effects of Pycnogenol. Journal of Cardiovascular Pharmacology 32: 509-515, 1998.
Frankel, E., et al. Inhibition of oxidation of human low-density lipoprotein by phenolic substances in red wine. Lancet 341: 454-7, 1993.
Freedman, J., et al. Select flavonoids and whole juice from purple grapes inhibit platelet function and enhance nitric oxide release. Circulation 103:2792-8, 2001.
Frémont, L. Biological effects of resveratrol. Life Sciences 66: 663-673, 2000.
Manna, S., et al. Resveratrol suppresses TNF-Induced activation of nuclear transcription factors NF-kB, activator protein-1, and apoptosis: potential role of reactive oxygen intermediates and lipid peroxidation. The Journal of Immunology 164: 6509-19, 2000.
Miyagi, Y., et al. Inhibition of human low-density lipoprotein oxidation by flavonoids in red wine and grape juice. Am J Cardiol 0:1627-31, 1997.
Monograph. Vaccinium myrtillus (bilberry). Altern Med Rev 6:500-4, 2001.
Murias M., et al. Resveratrol analogues as selective cyclooxygenase-2 inhibitors: synthesis and structure-activity relationship. , 2004.
Nuttall SL, Kendall MJ, Bombardelli E, Morazzoni P. An evaluation of the antioxidant activity of a standardized grape seed extract, Leucoselect. J Clin Pharm Ther 23: 385-89, 1998.
Packer, L., et al. Antioxidant activity and biologic properties of a procyanidin-rich extract from pine (Pinus maritima) bark, pycnogenol. Free Radic Biol Med 27:704-24, 1999. Review.
Schönlau, F., et al. The cosmeceutical Pycnogenol®. J Appl Cosmetology 20: 241-6, 2002.
Segger, D. and Schönlau, F. Supplementation with Evelle® improves skin smoothness and elasticity in a double blind, placebo-controlled study with 62 women. Journal of Dermatological Treatment 15:222-26, 2004.
Shi, J., et al. Polyphenolics in grape seeds-biochemistry and functionality. J Med Food 6:291-9, 2003. Review.
Wallerath, T., et al. Resveratrol, a polyphenolic phytoalexin present in red wine, enhances expression and activity of endothelial nitric oxide synthase. Circulation 106:1652-8, 2002.
Watson, R. Pycnogenol® and cardiovascular health. Evidence-Based Integrative Medicine 1: 27-32, 2003.
*These statements have not been evaluated by the Food and Drug Administration.
This product(s) is not intended to diagnose, treat, cure or prevent any disease.
Reviews
---
Excellent product
This product helps me keep healthy!
Response from Customer Service
11/07/2023
Dear Valued Customer,

Thank you for your positive review! We're delighted to hear that you are pleased with the benefits the Isotonix OPC-3® provides for you. Your well-being is important to us, and we appreciate your support!

Thank you again,
The Product Information Team
OPC-3
I've taken this product before so I know it works. I've been off of it for a long time. Being back on it has shown me I really need it ... because it works!
I feel good!
I have been using this product for a little over a week now and I really like the way I am feeling! Just an overall clean healthy feel. Stay tuned!
Response from Customer Service
10/19/2023
Dear Valued Customer,

Thank you for sharing your experience with Isotonix OPC-3®! We're thrilled to hear you're feeling great after just a week. Here's to your continued well-being! 🌟

Thank you again!
The Product Information Team
It helps!
Love it, been using for a couple years now
Response from Customer Service
10/03/2023
Dear Valued Customer,

Thank you for your review! We strive to ensure that you have a great experience with the Isotonix OPC-3®, and we're delighted to hear that you have been satisfied for years! Our aim is to provide a quality product that fulfills your requirements. Thank you for your feedback!

The Product Information Team
Amazing product!
I am blown away with the health benefits of this product. I recommend this product to anyone that needs an overall supplement that can deliver results whether you are on medication or not you will feel your best everyday.
Response from Customer Service
07/24/2023
Dear Valued Customer,

Thank you for taking the time to share your thoughts on the Isotonix OPC-3®! We are so happy to hear you are pleased with the product!

Thank you again!
The Product Information Team